Portfolio Entry: Kore Image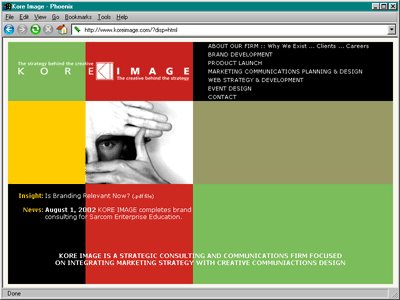 I made this site as a freelance Web Developer.
Kore Image had a Web site designed and implemented in Flash. They wanted an HTML version for accessibility and search engine usage. Working directly from the Flash design I re-created most of the functionality and look-and-feel using HTML and DHTML.
If an aspect of a site's creation or programming is not listed here, that means I did not contribute to that portion of the site. I do not wish to take credit for other people's work. If you have any questions about this, please e-mail me.
Site Credits
Launch Date: August 1, 2002
HTML Production: Me
Graphic Production: 40% Me
Programming:

Flash detection: Me
DHTML contact information: Me