Portfolio Entry: THISA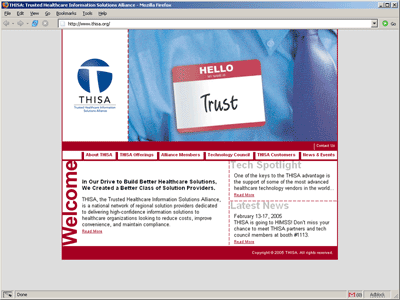 I made this site as a freelance Web Developer.
I got called in to create the HTML for THISA (the Trusted Healthcare Information Solutions Alliance) when they redesigned and beefed up their site. The old site had very sparse information; this one is much more useful.
If an aspect of a site's creation or programming is not listed here, that means I did not contribute to that portion of the site. I do not wish to take credit for other people's work. If you have any questions about this, please e-mail me.
Site Credits
Launch Date: February 8, 2005
HTML Production: Me
Programming:
Technology Used:

HTML and ASP Editor: Macromedia Dreamweaver MX